Alexander Kobrin: to identify them is not so difficult
16.03.2017
---
Petersburg deputies ask the Governor to finally deal with the hunters
27 Sep 2012, 18:05
Text: Denis Nizhegorodtsev,
Saint Petersburg
Printable
"Those who have killed a dog or a cat, which they regarded as literally members of his family, ready to do anything to deal with these scoundrels on their own," – said the newspaper LOOK Deputy of the Petersburg Parliament Alexander Kobrin. He explained his appeal to the Governor of the city about mass killings of dogs.
Legislative Assembly of St. Petersburg called on the Governor to take control of the fight with the so-called hunters.
The initiator of the appeal became the leader of the Yabloko faction in the legislative Assembly Grigory Yavlinsky. He notes that one appeal on this issue already, but officials and law enforcement officers ignored him. And that is the lack of adequate response to the activities of hunters has led to the fact that cases of poisoning dogs began to acquire systematic, sure Yavlinsky.
Besides disillusioned in the ability of the police to take action the owners of the dogs began to organize their own patrol units that "may lead to open clashes and acts of lynching."
Note that there is no less concern the tense situation between the breeders and hunters in Moscow. However, there after the recent poisoning of dogs began to prosecute criminal charges that animal rights activists call the almost unique phenomenon for Russia.
To comment on the issue VZGLYAD asked one of the initiators of the appeal to the Governor of St. Petersburg, the Deputy of local Parliament Alexander Kobrin.
VIEW Alexander Abramovich, why your faction has decided to take up the fight against the hunters? And why now?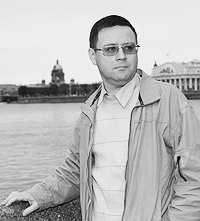 According to Alexander Kobrin, hunters are sadistic satisfaction of their needs (photo: assembly.spb.ru)
Alexander Kobrin: first, not only now. Back in the spring of Grigory Yavlinsky appealed to the Governor with a Deputy's request in this regard. But, unfortunately, the answer did not satisfy. Despite the fact that of the appeal of the Legislative Assembly to the Governor is an exceptional case. If just anyone was killed there or dogs where he did, we would be treated to the police and everything. In this case, is already a systemic problem.
We see that in the city there are organized gangs something else I don't want to call them. These hunters put their case to the stream, and they get a sadistic pleasure from killing dogs and other domestic animals in many different ways. This spreading of the poison, and using a syringe to sedate, but not stuffed with sleeping pills, poison, etc., And these methods are usually dangerous for people. If a child something like that raises, you know, what could be…
The second point – the dog owners are trying to contact the police, but they either statements do not take, or accept, but then send a formal reply that the criminal case is denied…
A. K.: There was the answer is absolutely not about that. The meaning was this – that, say, some citizens break the rules of dog walking… But it's completely different and has no direct relationship to what we asked. And the Prosecutor's office responded that will track irregularities in the catching of stray dogs. We told them about Thomas, and to us – about Eremu.
We believe that the first thing to do in this situation is to recognize the existence of problems. While it, unfortunately, does not recognize. We have more or less high not heard that there are these gangs. While all people know about them.
OPINION: why, in your opinion, the problem closed my eyes until now?
AK: For two reasons. First, we have traditionally in Russia, crimes related to cruelty to animals are considered somewhat irrelevant. Think of it, there's a dog killed, over here we kill people, the people think… In the state Duma, probably, five years already is the law on strengthening of responsibility for animal cruelty, but there it's not give move – not reject, not accept.
And the second reason – some people just don't want to work. It's not just to come to the family disassembly, there is need to undertake some serious actions, including investigative, and to deal not with grandparents or some intellectuals coming to meetings, and healthy people, often armed…
LOOK: Can you talk about that situation recently worsened?
A. K.: Can. I am monitoring social groups and see a growing number of people affected by these actions. And those who have lost a dog or a cat, which they regarded as literally members of his family, ready to do anything to deal with these scoundrels on their own. In the groups of animal rights activists such messages have already hundreds.
OPINION: the Problem that we're talking about, it is not only St. Petersburg?
A. K.: Not only. But in Moscow, for example, this problem was recognized at city hall, and she's somehow solved. We pretend that it is not at all. The only difference in this.
VIEW: What are specific ways of dealing with the hunters you have to offer? To toughen punishment? To introduce a new article in the Criminal code?
A. K.: about the new article of the criminal code, I can say that we have, in St. Petersburg, there is no such authority. Although we believe that these bastards deserve a severe punishment. And the crimes that they do, in fact, directed not against dogs, but against people. I listened to a criminology course with Professor Gilinsky, one of the most well-known specialists in this field. And he told me that the relationship between killing animals and – later – the killings are clearly established by experts.
With regard to the responsibility of hunters, because there are existing laws in which it is registered. We currently just want to run. To be taken quickly-investigative actions in respect of these gangs etc. Because now they are, in General, are afraid of nothing, create groups, share there pictures, talk about their success… to identify them is not so difficult. It is important to start a battle with them.
OPINION: Some specific measures spelled out in your proposal the Governor? For example, to organize patrols, something else?
A. K.: No. Because everyone needs to do their job. Imagine that I would write a letter, for example, poor health care, and began to tell him the doctors how to do surgery… it's Our job to ask the Governor to get to work, people who already know how to do in such cases. He, of course, he would go to the RAID and will not be with a gun to someone to shoot. Just in Russia, unfortunately, it is accepted that the presence of only one law is not enough, you need the command of a senior official that the law began to perform.
OPINION: it's No secret that the actions of dog owners who are walking their dogs without muzzles, and then the dogs in some cases, attack the children, many are also unhappy. Don't you think that in a sense they are also to blame for the appearance of the hunters? Maybe the problem should be solved from this side?
A. K.: are two different things. What is the problem breeders? That they walk their dogs anywhere, polluting the area, sometimes do not wear their Pets muzzles, and collars. But that responsibility is also installed! And, incidentally, quite substantial penalties.
On the other hand, there are hunters. But because they do not restore order! They do satisfy their sadistic needs. If tomorrow all dogs will be kept only in designated areas and in the muzzles, the hunters do not disappear. They will do the same. It's such a pathology.
VIEW: But the degree of confrontation may decrease?
A. K.: And then there was no confrontation. You assume that their actions are a reaction to wrong behavior breeders. But it's not. That's when pierce the tires of the car, which was parked on the lawn, – an opposition, action in protest. When the car is parked normally, she has this man to harm will not be. This is different, these will continue to poison the animals…
OPINION: how, in your opinion, the real situation is that breeders will Lynch you caught on the dog hunter?
A. K.: it is real. Because now dog owners arranged a kind of self-defense units had already heard certain appeals. Now imagine that they caught this man. People who have lost beloved Pets, quite frankly, are on edge. It is difficult to expect from them merciful treatment of the dregs. As soon as somewhere a legal vacuum in the protection of citizens ' rights, people start trying to defend their rights on their own. And believe me, nothing good ever resulted.