Richard Spencer: We are often called trump the "God-Emperor"
28.02.2017
---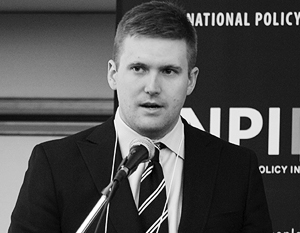 "In many respects, Donald trump disappointed. But it should be noted that he is trying to do something drastic – for example, to ban the entry of Muslims," – said in an interview to the newspaper VIEW, the ideologist of the American "alternative right" Alt Right Richard Spencer. This movement linked to the name of the adviser to trump Steve Bannon; the main targets for criticism are Spencer and his associates.
Senior Advisor to Donald trump Steve Bannon said that "corporate globalist media" will regularly interfere with the President to pursue a policy on many issues. This was reported to the American channel C-SPAN, quoting the speech of'bannon, with whom he spoke at the day conference of conservative politicians Conservative Political Action Conference (where, in addition to'bannon, played by trump and leader of the British eurosceptic UKIP Farage).
"I'm not a supporter of rigid nationalism. I'm not against the Russians or the Italians and so on… Yes, my wife is one-quarter Georgian. But Georgia is part of the European family"
The last time he'bannon and his conservative entourage be one of the main targets for the "globalist media" and political opponents of the trump – after removed from the game, the former assistant for national security by Michael Flynn. As noted by the newspaper VIEW, Tom Malinowski (who two months ago was the assistant Secretary of state John Kerry on democracy, human rights and labor relations) warned in an article published by the authoritative magazine Foreign Policy: "If Germany and France… will seek to strengthen anti-EU positions, trump Steve Bannon can quietly notify their European friends from the international alternative right that they would do well to veto the decision to extend the sanctions regime".
The key phrase here is "international right-wing alternative" (Alt-Right International). Steve Bannon is one of the sponsors of the election campaign of Donald trump, the current senior assistant to the President, who is called "chief strategist" of the White house, until his contact with team trump was the chief editor of news portal Breitbart News. And this is a conservative resource, in turn, is considered almost the main brain centre of the growing power of the movement of alternative right.
Alt Right is only partly connected with the victory of the Republican party, not associated with the neo-conservatives (neocons) that prevailed under George W. Bush, and, according to opponents, have a significant impact on trump, and the European right-wing eurosceptics. In early February, the University of California, Berkeley, known for his left-liberal tradition, there were riots because of the announced lectures, which here was going to read Milo Giannopoulos, at that time a senior editor at Breitbart News. Writer and blogger Giannopoulos (whose hallmark was the statement about their own homosexual combined with the ultra-conservative declarations), made a name for himself in numerous scandals, which cost in the end of the editorial chair. Note that many members of the rather amorphous community Right Alt repudiate this "face of the movement."
Another object of criticism from the Obama camp and Clinton traditionally is the head of the analytical center "Institute of national policy", a former Deputy editor of the publication American Conservative Richard Spencer. It is not directly related to Breitbart News, but is considered an ideologue of the Right Alt and the author of this term (although, as explained by Spencer himself, for the first time the expression "alternative right" used the philosopher and "paleoconservative" political scientist Paul Gottfried in 2008).
Spencer answered questions of the newspaper LOOK on the incidents connected with him on those charges that he faces, talked about whether "ethnically pure" America, and told about his vision of the policy trump.
LOOK: once you gave a TV interview on one of the streets of Washington, when an unknown suddenly hit you in the face, then fled. This entry has caused intense debate in the American blogosphere. Some laughed, others were indignant. How would, in your view, did Barack Obama, if you were a witness to this situation? He would have called the police or laughed too? In the United States for several decades, the ruling circles cultivate the rule of law. It turns out that even if the statements of a person someone doesn't like you, in this situation, you need to call the police or even personally to pursue the criminal.
Richard Spencer: This is a very interesting question. I hope that Barack Obama would call the police if he was a witness. But I can't say because Obama is a bit of a controversial figure. On the one hand, it gives the impression of a man who has anti-colonial views, anti-white sentiment. But on the other hand, he wants to be white, that is to go in line with the traditional President. So perhaps Barack Obama would not try to take in this situation. Can't say for sure.
Over the past 20 years, the boundaries of freedom of speech in our so-called legal state significantly narrowed. Media who calls themselves free, only replicate point of view on domestic and foreign policy, coincides with the opinion of the ruling globalists in Washington.
In the USA, generally not imprisoned for dissent, preferring the organized persecution in the media that often leads to such consequences as termination of employment and, as a result of public harassment. On these grounds, the attack on me are not too surprised: "true" media and the ruling elite declare any positive expression of identity for white Americans Nazism and racism, and for the sins of supposed physical punishment.
OPINION: My statement on 20 November, you made a cry of "Heil, trump!" Often you use this expression? Your colleagues reacted to throw up hands, reminiscent of the Nazi salute. You know how it is perceived in Russia, where the Nazis killed at least 27 million people during the Second world war?
R. S.: It is an expression I never used. It was private, very unconventional case. The conference was held a week after the elections. Everyone was in a buoyant mood. And my appeal to the Tramp was just a joke, the opportunity to laugh. The media, of course, is not supported. Said that it was a provocation – welcome to trump in this way.
The movement "Al-Wright" is well known for its sense of humor: Hillary Clinton herself made the whole world our mascot, the frog Pepe. Throughout the election campaign we often called trump the "God-Emperor" (God-Emperor Trump), and on my toast Hail Trump (and not "Heil" – because I spoke in English and not in German) – that is, "long live the tramp" – you need to see it in this way.
It should also specify that I am not responsible for the behavior of individuals, which are units of hundreds of attendees. I have repeatedly said that "Al-Wright" is a move in the future and that we should not draw the old ideas of the ideologies of the Modern era. The behavior of those young people should be seen as a protest against the dominant American society, liberal ideology, where any support for the identity of the white population is treated as a manifestation of racism and Nazism.
We have in the U.S. there is even a term reductio ad Hitlerum (any discussion is Hitler), and for some young people, tired of such comparisons, outstretched hand is a sign of protest against the liberal system, which they ridicule and not support Nazism. But, of course, these young people should think about the historical use of this gesture, as well as the American establishment need to reconsider the current attitude to the indigenous white population.
The danger lies in how the demographics shows that due to numerous factors, including immigration policies, white Americans in the near future will constitute a minority of the US population. In African Americans, immigrants from Latin America and other national minorities there are numerous organizations that support their rights and protecting their interests, while those supporting our interests as the indigenous white population of the United States – does not exist. Moreover, this support is automatically declared racist.
MIND: You advocate a "restoration of rights" of white people in the United States and for the creation of so-called ethnic state, in which the representatives of other Nations. How then is combined with the fact that you were married to a Russian girl? Moreover, your competitors from other similar movements immediately began to explore its origin, said that she was Russian with an admixture of not Tatar, not Georgian blood…
R. S.: with regard to the concept "nation-state", I believe that here we have to think about the distant future. It's not something we can do right tomorrow morning. But I think that is the goal of the future, which we should consider. I want to have right now white people have a consciousness that they understand who they are and who they can be. I believe that in the future it will happen, we will have racial division. In the US, the presence of numerous races has resulted in a huge number of unfortunate consequences in the world. It should be noted that the term "nation-state" is not quite correct. I often explained that we are talking about the revival of a kind of imperialist concepts, such as the Holy Roman Empire, which links several States in civilizational and cultural terms.
OPINION: do You think that white and blacks should live apart. But want to achieve this not through violence, but in other ways. What?
R. S.: All this is possible to solve peacefully. If we talk about recent migrants, they can just help financially, so they returned to their country. They have no roots in the US, so to help them return to their country would be easy enough. As for those who are migrants in a few generations, there should be created a special program that will help them to reconnect with their native country. Again, it can't happen tomorrow morning, is a long-term perspective, but it is something we need to think now.
OPINION: One of the "faces" of your movement has become the heroine of the reality show tila Tequila is Vietnamese in origin and an open bisexual and a drug addict. How this fits with your principles?
R. S.: tila Tequila is not just a shocking face of our movement. It is a source of fun and energy. I find it wonderful that we have people like tila Tequila. As for her sexuality and drugs, and now she was reborn, revived, overcoming her past lifestyle, she has changed completely. And she's proud of it.
I do not approve of her behavior in the past. But people need to leave the right to revive yourself. And we must encourage their desire to change.
OPINION: meanwhile, tila Tequila called themselves Getjoy and once was photographed with a swastika on the sleeve against the background of Auschwitz. You also think this is part of the past way of life that she overcame?
R. S.: No, this is her trolling, that was sort of a joke, but, of course, PR. This was not any serious intentions. It always tends to annoy people, to excite them, to attract attention.
VIEW: How strengthened your movement numerical and media after winning the trump?
R. S.: the Situation is very interesting after winning trump. To our movement attracted a huge attention. It's wonderful. We broke into the mainstream.
But on the other hand, is to criticize Donald trump. Not everything he did is welcome. I think that in many aspects trump disappointed. However, it should be noted that trump is trying to do something drastic, like ban on entry of Muslims. However, many in the government seek to repair his obstacles.
OPINION: According to your forecasts, to what extent trump will be able to fulfill their campaign promises?
R. S.: Donald trump is fighting not only with the Democrats. He is opposed by many people in the government, they are trying to prevent him from executing even the smallest steps in his agenda. Donald trump is in a dangerous situation when he is the leader of the government, but that government is against him, and this was clearly demonstrated after the resignation of Michael Flynn.
Despite this, trump is committed to follow its agenda. And a ban on entry to citizens and refugees of the seven predominantly Muslim countries already require from him a tremendous strength to go against everyone. But I don't know whether he will be able to see this through.
However, I still think that trump will definitely change our foreign policy and we will not be returning to the line of Bush or Obama to overthrow the ruling regimes in the middle East, building democracy there. And I think that will significantly improve US relations with Russia.
Not to mention that the media and the government are very hostile to Russia. For them it is an evil country that crushes democracy, everywhere is trying to obstruct US, to destroy everything that we do, and so on. Donald trump clearly wants to improve relations with Russia, but do not know how he succeeds when against him the whole government. And, of course, do not underestimate the role of the "internal state" (deep state ' in American political journalism, as indicated by – the bureaucracy associated with power and business structures – approx. OPINION).