Andrew Lazurin: Generals, Deputy Ministers and deputies stood at attention
10.02.2017
---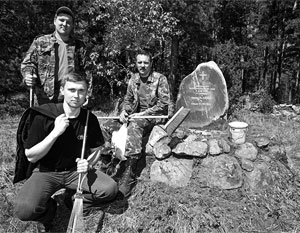 "Sometimes, 80-year-old grandmother crooked, with a stick – lead us through the forest two to three miles to show an abandoned landfill. But some openly say: "Why did you pull out of the woods the bones of the invaders?" – told the newspaper VIEW Andrew Lazurin, military history Association which is transported from Estonia to Kazakhstan, the remains of a Soviet soldier, ceases to be "unknown".
Guys from the military-historic Association FrontLine in Estonia know well. They are always in sight because they just have to deal with. If Estonia were not allowed to rent any movie about the war, arrange a viewing at the House of Russian culture. When it's may, delivers gifts to the veterans. If deteriorated monuments on the graves of Soviet soldiers, their correct and restore. If you find in the woods the remains of the soldiers, write long letters to seek permission for their disposal.
"You should have seen how we were greeted! The people at the rally gathered from all over the city. That's what I call a worthy parting"
Some – mainly those in the Baltic region called Russian their for such things, thank you. Others, calling themselves "true patriots", the burning hate, I think "Russian fosterling", refuse to employ, openly willing to fail during search operations in the deep Estonian swamp. Though to some it may be to the detriment of what remains of unburied soldiers are buried.
Most often, these gravestones no name – time to ruthlessly erased the names of flown away with the flock of white cranes. But sometimes they return, cease to be "unknown soldiers". One of those stories, starting during the search at Narva, was completed recently in the Kazakh city of Semey, formerly Semipalatinsk. Citizens of three States – Estonia, Russia and Kazakhstan for half a year, worked as a team in order to rest one fighter.
About this story, the right fighters for the funeral and also about a friend or foe is the state of Estonia for the search engines, VZGLYAD spoke with the representative for international Affairs of the Tallinn society of participants of the Second world war, the head military-historical club FrontLine Andrei Laurinum.
OPINION: Tell me, Andrew, that today Russia's relations with Estonia at all desire can not be called cloudless, a serious impact on your activities?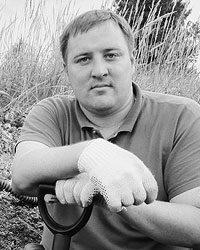 Andrew Lazurin (photo: from personal archive)
Andrew Lazurin: well, we have nothing to do with politics. Just find and disposed of the remains of the soldiers.
OPINION: It is allowed by law? Power you do not interfere?
A. L.: of Open opposition, like, say, in Lithuania, in Estonia no. Quite the contrary, in many cases, we not only helps the Ministry of culture and the Ministry of defence. Of course, without certain difficulties at the level of perception of some officials is not complete. But we have been such things used, and learned them more or less to cope.
LOOK: People also treat you kindly?
A. L.: If you generalize, you get 50: 50. There are many examples of 80-year-old grandmother crooked, with a stick – lead us through the forest two to three miles to show an abandoned landfill. But face, of course, and with a negative attitude. Some openly say: "Why did you pull out of the woods the bones of the invaders? Who cares?" Or even worse, ask: "do You, among other things, engaged in the reconstruction of battles of the red army, that is able to handle weapons, have good physical and tactical training. If there was a conflict with Russia, which side to be on?"
OPINION: whose?
A. L.: Good question…
OPINION: There are a couple of issues which you may not want to answer.
A. L.: What?
OPINION: the First found of the Nazis, too, bury you? And second – it's true that the search engines are many who are not interested in the repose of the remains of soldiers? They have other, Mercantile interests?
A. L.: the Remains of German soldiers, we pass to the representatives of the German Union on care of military cemeteries. As for the diggers who call themselves search engines… of course, I was faced with the options, when people went into the forest, dug and hid their findings, and then these things started to appear in stores. And I was always much hurt, when the bodies of soldiers find, Packed in bags and left in the forest. Those who worked on this, clearly has no desire to pursue the heroes with dignity.
LOOK: You said, to carry out adequately. Is, in your opinion, how?
A. L.: Is the cemetery where people will come to pay homage and lay flowers. But it happens the other way. For example, we have just buried artillery Nikolay Sorokin, which the search engine Yuri Korenkov found at Narva.
OPINION: How do you know the name of this fighter?
A. L.: When it was the medal "For courage", and it clearly read number. We have requested the Central archive of the Ministry of defense of Russia. And we were told that this medal was awarded on 1 February 1944, native of the city of Semipalatinsk of the Kazakh SSR, the ordinary 781 th infantry regiment 124th infantry division Nikolay Fedorovich Sorokin.
The LOOK: near Narva, if not mistaken, is the largest military burial – layer. Why was he not buried there?
A. L.: is Buried in his homeland, in the city of Semipalatinsk, now this city is called Families. Wanted his daughter. When we went in search of them, they immediately wrote: "If you can somehow transport the remains in Kazakhstan, help! We will take a Bank loan and I will pay it!" But to take a loan they never had. To business joined the Chairman of the counter-terrorism Committee of Kazakhstan Amanzhol Urazbayev, and part of the expenses were covered by the Kazakh side. And the remaining amount added St. Petersburg benefactor Hrachya Poghosyan.
OPINION: Money, of course, a serious question. But because such things are inherent to large bureaucratic red tape, and in this case it was necessary to be solved and diplomatic issues.
A. L.: We worked together with fellow club Osting, and helped us all – and the Ministry of defence and Ministry of foreign Affairs of Estonia, the Consulate General of Kazakhstan and the Embassy of the Russian Federation.
OPINION: AND the Russian Embassy why?
A. L.: of course! This unit participated in the defense of Leningrad, so it is first carried out in Estonia, in Kohtla-järve, then held a farewell ceremony in St. Petersburg, and from there I took the coffin to Astana. You should have seen how we were greeted! The people at the rally gathered from all over the city. Generals, Deputy Ministers and members of Parliament stood at attention and saluted a simple soldier. That's what I call decent wires.
OPINION: Burials are always accompanied with such lush events?
A. L.: of course Not. But, by the way, we for the first time in the history of Estonia gave the land to ethnic Estonians, the red army, who died in the defense of Kerch in 1942. Crimea was still part of Ukraine, and at first the remains were brought to Kyiv. There in the Palace of veterans, the ceremony of transfer, and was attended by representatives of the foreign Ministry of Estonia.
OPINION: AND yet strangely enough, Andrew. The soldiers you are talking about, he served in the army, which in the Baltic States consider occupational, and ceremony, the diplomats…
A. L.: For us that they refused to come, was some kind of victory.
Then the remains were taken to Petersburg, and from there to the South of Estonia, where this man – his name was Arthur Hoop – pohoronili to his mother. It turns out – and the government has shown respect and managed to show people that all may not be as bad as trying sometimes to show.
OPINION: For me is always the big question – who do you need to show that after the collapse of the USSR we with yesterday's brothers become enemies?
A. L.: it's Hard to say. I say, we are far from politics. You understand that the FrontLine very large amount of work – search activities, and collaboration with veterans ' organizations, and care of military cemeteries. By the way, I am particularly proud that we have restored and changed in Estonia over 80 monuments, including 54 – in conjunction with the administration of the Leningrad region. We had five years to work with the Committee on youth policy under the government of LO. We did requests for production lost gravestones. Their production was paid by the government of Leningrad oblast, there remained only to carry the plates in Estonia and to install.
OPINION: it Turns out almost all of your projects have an international status?
A. L.: so it appears. But, if they're not a large international team of associates, we hardly did anything at all to do.
LOOK Among the search engines, probably a lot of young people?
Al: unfortunately, no. The average age is 25 plus. And youth is a big problem. It is not. And I don't know how to deal with it.
OPINION: the Question is too serious, especially considering what I write now in the European history books. But those who work with you in the FrontLine, apparently completely share your attitude?
A. L.: of course There are people who are in search for some own reasons. But before my boys, I set a single task: every dead soldier should be found and laid to rest in peace.
OPINION: But can you at least roughly know how many unknown soldiers lie in the ground?
A. L.: You are right. But we raise and will raise.