Obama left Merkel instead of himself
02.02.2017
---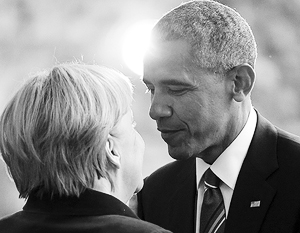 The meeting of Barack Obama with Angela Merkel became the main event of a farewell European tour, the outgoing American leader. While Obama was behaving like leaves Merkel as his successor, exhorting the Germans to appreciate it, and the Merkel – not to forget the strategy chosen in relation to Russia. Russia itself Obama called "superpower". I think he did it for the first time.
Perhaps most importantly, what can we say about this meeting is that Merkel has forgiven us President over surveillance, which led to her American intelligence services. Hand lavished each other with compliments, spoke of the common approaches to foreign policy, warned of Donald trump from "deals" with Russia, in short, behaved like winners, which is known to be untrue. Obama's support did not ensure the victory of Hillary Clinton, and Merkel's ability to get re-elected in the current environment raises serious doubts.
"I am glad that it is, and the Germans should appreciate it"
Before the joint dinner of the American President spoke to reporters from Der Spiegel and ARD. And in this interview, in fact, launched the election campaign Merkel. The day before she expressed the desire to nominate his candidacy for the new, fourth, term. Obama campaigned aggressively, and even somewhat obsessive:
"She instills great confidence and ready to fight for their principles. I am glad that it is, and the Germans should appreciate it."
Still, the failure of the Clinton Democrats has taught little. They still believe that the right to dictate not only their fellow citizens but also to foreigners telling them what they should do and what should not.
Obama also noted that throughout his presidential term Frau kantslerin was "closest international ally." Not surprising, given that the American national security Agency led for Merkel-hour surveillance in Washington knew about it more than in Berlin.
However, as Hillary Clinton forgave her husband for cheating, and Angela Merkel is holding Obama back for excessively hard work of American intelligence. At least, nothing speaks to the contrary. All potential claims are left unspoken.
During the official meeting and the subsequent dinner, the parties discussed Russia. In particular, Obama first called our country a superpower, with influence not only in the region but throughout the world. He also said that Washington has serious evidence of Russia's involvement in cyberattacks against the United States. "This is not a new phenomenon. And this is not something peculiar only to Russia," Obama said, noting that in the past, there were "cyber attacks in other countries at a lower level, as well as by hackers, industrial espionage". "Such actions must be stopped", – concluded the President of the United States.
Another raised the two leaders cybertime, which writes the New York Times is fake news. "We live in times when misinformation very well packaged, and it looks the same (as the truth – approx. OPINION), when you see it in your feed on Facebook or on TV, said Obama. – When everything looks the same, we don't know what to protect".
The Creator of Facebook mark Zuckerberg has called the accusations that fake news could affect the failure of the Clinton, "a few crazy".
Also Merkel and Obama agreed that sanctions against Russia should be maintained. The introduction of new sanctions against Syria, which were announced earlier sources in the German government, is not reported.
The outgoing American President also allowed himself a veiled threat against the newly elected. "This work forces you to be serious. He who does not show seriousness in this work, he will likely not remain on it long," he threatened Obama.
In the twentieth century nedorabotanno his term presidents have either resigned because of the threat of impeachment (Nixon) or were killed (Kennedy), or died a natural death (Harding). And Kennedy and Harding can be called not serious enough – both cheated on the wives and led a very Bohemian lifestyle, but the fragility of their presidencies hardly associated with "lightness".
It is significant that both the American and German media, describing the talks, Obama and Merkel, practically quoting kantslerin – only gratitude to the President of the United States, words like "it will be hard to say goodbye" and promised to "do everything possible" to find common ground with Donald trump.
This meeting is the farewell benefit of Obama and the role of Angela Merkel and other European leaders meeting which he had scheduled for today – to thank, to say Yes and promising to teach trump's wits.
Meanwhile, the trump, after the victory smarzewski sharply their rhetoric against the Democrats, continues to refrain from harsh statements against the losing party. In his "Twitter" he's quite sluggish pererugivalis with The New York Times, who wrote, according to trump, untrue information about the number of world leaders who congratulated him on his election. But glad that Ford will move production of cars in Lincoln from Kentucky to Mexico.
But while trump speak louder than words: his national security Advisor he was asked to become Michael Flynn – General in resignation, the supporter of cooperation with Russia.