Nina Pavlova: Nobody likes to remember the tragedy
28.01.2017
---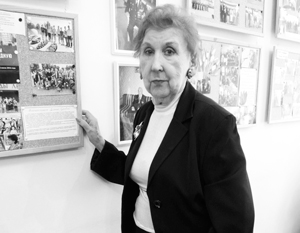 "There is nothing good we in Leningrad was not expecting. Our room was busy, the normal working mom do not get, and hungry. In the school where I studied, were mostly newcomers, bloodnet only two. And all the girls in our class thought we were inferior," – said the newspaper VIEW Nina Pavlova, Recalling the years after the siege, the anniversary of the lifting of which is celebrated on January 27.
Blockade, scattered by time and circumstance in the world, live his life, not only in Northern capital. Many razehalis once on the Soviet Union, was abroad. The correspondent of the newspaper LOOK was found with Nina Ivanovna Pavlova, which for ten years was the head of the Tallinn society of the residents of besieged Leningrad.
Laughter through tears
"He pulled our sleds with boards and went and we are so on the ice and left. Crying, screaming for him to give away our sleds, but where there"
Nina Pavlova: I remember like it was yesterday. Anything was possible, and, oddly enough, not only terrible. Now it is even hard to imagine, but it happened that and laughed.
Tell one case. In the first siege of autumn dad did at the plant small stoves, brought home, installed. A pipe led into the chimney big – we called it a stationary furnace, which nobody ever drowned – she had too much wood.
Was October, already cold, we began to throw in their chips stove, warmed up, melted, and fell asleep…
OPINION: AND the chips from where? Furniture dismantled?
N. P.: No, furniture is not touched. I will tell you about the chips separately…
So, fell asleep. And in the night she woke up, looking from chimney sparks fly, you know? Mom screamed, "Burn! Burn!" The neighbor ran to call the fire Department… the Fire station was next door. Came three men. And the water is not there, they had to cut down smoldering planks from the walls and ceiling. Cut down, drop on the floor and feet trampled. In General, fire did it, but on the ceiling left a hole two feet in diameter. Not through, but it was clear the shingles. And above us is the attic… and lived.
OPINION: Oh, I'm afraid, Nina, it's not a very funny incident.
N. P.: Wait I'm not finished the joke. One day my mom was at home, and brother is hunted. Suddenly, the DIN, dust, dirt, can not see anything, only hear the rolling of the pelvis. And when it became possible to see something, staring at the ceiling, where the hole has collapsed, and we have on the floor is a neighbor, which for some reason was called Nezeligi. We immediately realized that it traded in the attic, stepped on a treacherous place and failed. My mom laughed so hard! And Netelia in tears. Thought that fell into the trap and want to kill. Voice, begging for mercy. Barely explained to her what happened. But then long laughed…
OPINION: the Story is rather tragicomic, but you said about his brother, and about the neighbor that they "hunted". What does it mean?
N. P.: During the siege all the children and adults who could walk – all the time looking for something. Climbed into the garbage in an abandoned house, rummaging in the ground suddenly come across some roots or even potato. Tried to get something on the fires, in the ruins. Here it was called then, the word "to think".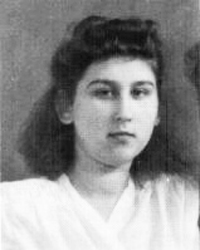 (photo: from personal archive)
The LOOK: Often managed to produce something edible?
N. P.: Not only edible. One winter 41 my brother accidentally discovered the warehouse of the plates of which have amassed boxes of shells. The warehouse, of course, guarded, but Valentina managed as something to bring home, we stoked his stove. Plank, of course, ended quickly, and he said to me: "come help!" Of course, I was scared, but nothing to do…
OPINION: How old were you?
N. P.: I'm nine brother eleven. Took the sled went. But to get to this warehouse, I had to go on the ice of the Black river. We have extracted plate and back. And the shore is steep, us our who does not raise. And here we see the upstairs man. Looked at us, said, "come on, guys, help."
OPINION: after All, the world is not without good people…
N. P.: then You listen. He pulled our sleds with boards and went and we are so on the ice and left. Crying, screaming for him to give away our sleds, but where there…
In General, we endured the terrible winter and maybe would have survived. But when I learned that anyone who goes to the evacuation, at the Finland station give the whole loaf of bread, started with his brother to molest my mom, "let's Go!" So, starved, zavivanie, scurvy and he was one of the loaves in the train, going to Novosibirsk.
LOOK: Returned immediately after the war?
N. P.: Yes. Just nothing good we in Leningrad was not expecting. Our room was busy, the normal working mom do not get, and hungry – foods-that have long been on the cards. But it would still be okay. In the school where I studied, were mostly newcomers, bloodnet only two – me and my girlfriend. And all the girls in our class thought we were below him. How many times have we heard them whispering that in Leningrad during the blockade they all ate people. And I thought I wasn't human, I was even married no one will take. Because of that, and married the first person who asked. Jumped out, went with him to Estonia. The new place was good – fattening him up, changed his name, no one knew what I believe and not ask awkward questions…
Banknotes of fate
Judging by how habitually tells Nina about the days there is no doubt – to do it to her quite often. At Tallinn inhabitants of besieged Leningrad for several years, there is a group of so-called offspring – young people who care about the fate of the elderly. Guys, not only from those who habitually call today Russian help veterans and blockade, and in parallel write to disks their stories about the war – collect the diamond Fund of human memory. Discs we had collected nearly three hundred. However, none of the Museum, where "the descendants" offered his collection absolutely free, to take the disks did not agree. And they lie in a special cupboard, waiting for its moment of glory…
N. P.: by the Way, because neither one of us many years have not talked about the fact that we are from the blockade – continues Nina Ivanovna after a short break in the conversation. Not that it was forbidden, just as it is not accepted. Only in the 1990s, when the Russian government officially declared that there exist such people – residents of besieged Leningrad – we also were given certificates and began to show attention.
VIEW: But Estonia then declared independence and you probably also are ranked as "occupiers"?
N. P.: Blockade – no. We think the victims, so they treat us quite well. Even allocate money for projects that fall under the concept of "integration in Estonian society".
VIEW: What, for example?
N. P.: Well, let's say, municipalities have traveled all over the country, stayed in decent hotels, eating in nice cafes, laid flowers to the monuments.
OPINION: It is certainly good, but the Russian blockade receive from the state a pension. In Estonia I don't?
N. P.: Estonia, we, of course, nothing pays. But since 2005 under the decree of the President of Russia to our blockade began to issue DEMO – additional monthly material support in the amount of 500 rubles. It is true, not all.
Those who changed the Soviet passport in Estonia or received the gray, on the Russian financial assistance they could not qualify.
LOOK: Grey passport is a document of those who acknowledged himself as a man without citizenship?
N. P.: Yes. And we – the siege of Tallinn society – began to write in all possible instances. Sent several dozen letters, but he got what he wanted. In 2015, the Russian President issued a decree that the DEMO started to get these blockade too.
VIEW: You say, 500 rubles? At the current rate of less than 10 euros. And in Tallinn stores a loaf of bread costs EUR…
N. P.: Not so much, you're right. But we can apply for disability and receive from Russia like a second pension, and she sometimes comes up to 9000 rubles. However, to make it very difficult. You have to pass several exams in different clinics.
OPINION: Even those elderly who can't leave the house, needs to go to these medical Board to investigate them?
N. P.: I'll tell you: to be examined – even half the battle. When you're done, you write a document in Estonian language it must be translated into Russian. And interpreters in medicine, as a rule, do not understand. And the result of the two hundred odd Tallinn blockade, only 60 were able to get approval from the Pension Fund of Russia. The rest have to live on 300-400 euros.
VIEW: But from an Estonian prices on utilities is almost poverty…
N. P.: So we try to help them than you can. I applied to the St. Petersburg Committee on foreign relations, the Committee on health, and I have to say, I was never refused. One example was sent to us for almost half a million rubles – crutches, canes, walkers, blood pressure monitors. Transported it all across the border Embassy, and we received such wealth, began to give to the needy.
OPINION: Everyone's got one?
N. P.: Almost. And then I called again from Peter: "You don't need another stroller?" How could I refuse?!
But that's not all. Russian Embassy pays us a subscription to the newspaper, provides financial assistance, provides free vouchers to health resort and even compensates a part of expenses on funeral.
In General, to live as it is possible… but with each passing day we become less and less. And you know what saddens me the most? When will not be the last of us, the people cease to remember the war.
OPINION: Why? Due to the fact that today the West is trying to rewrite history?
N. P.: I will say simply: no one likes to remember the tragedy…