Russia increased investments in US securities
12.01.2017
---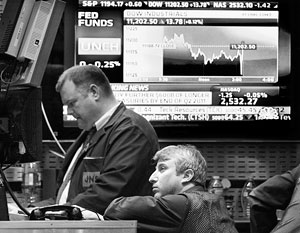 Russia in may increased its investments in the securities of the U.S. government. Although Moscow has a clear policy on reduction, given the geopolitical and economic situation. Why Russia stopped to get rid of the us securities and began again to invest?
Russia again began to increase their investments in the securities of the U.S. government, although it tended to decrease in Russian investments in us bonds. In may, Russia increased its investments 4.1 billion to $ 70.6 billion dollars, announced us Treasury.
"Even though may reverse the trend overall in American securities now held almost in half Russian reserves than at the end of 2013"
The total volume of foreign investments in U.S. securities, which make up of 6.13 trillion dollars, Russia's share is only 1.1%. However, until 2008, the Russian General was among a group of major buyers of US Treasuries ("treasuries"). But in the crisis year, Moscow has invested in us securities by a record amount of investment has increased over the year from 3.5% from 32.6 billion to $ 116,4 billion. By the end of 2013, Russia has invested in U.S. Treasury bonds for as much as 138,6 billion dollars and has already begun to break into the top-10 largest holders of us securities.
However, in 2014, just on the background of aggravation of geopolitical confrontation with the United States (in the context of Ukraine), Russia began the countdown. Since August 2014, Russia began especially actively to get rid of us securities.
Last year Russian investments in "treasuries" decreased by 52.6 billion dollars – nearly 38%. In January – April this trend continued. So even though it's may reverse a trend overall in American securities now held almost in half Russian reserves than at the end of 2013. So, in December 2013 the volume of us government securities in the Russian portfolio amounted to 138,6 billion in August 2014 is already 118.1 billion dollars, after extension of the papers in may – only 70.6 billion dollars. If in August of last year, Russia was in 12th place in the list of the largest holders of us bonds, as of may 2015, by 20-th position. Russia behind Norway, Canada and France.
Interestingly, the trend of cooling of Treasury bonds in the United States, was noted not only from Russia but also from other foreign Central banks. In the first week of March 2014 investments in the us "treasuries" fell just more than $ 100 billion. It was the maximum drop in the history of data collection. This is more than three times higher than the previous record drop to $ 32 billion set in mid-2013.
First place in the list of holders of us securities in may, again went to China. Beijing has maintained it's place, but in April 2015 he was suddenly ahead of Japan, which became the largest holder of American "treasuries" for the first time since the financial crisis of 2008. China regained the title, because they increased their investments with 1,263 trillion in April to 1,270 trillion in may. The strategy of Beijing and Moscow recently very similar to this China also got rid of us securities. From February 2014 to February 2015, China has reduced the volume of 49.2 billion dollars. But Japan in the same period investments increased by 13.6 billion dollars. Thus, for six consecutive months (from October 2014 to March 2015) China has reduced its investments in us securities 15.4 billion to $ 1,224 trillion dollars.
According to may 2015, on the second place Japan, which the us paper on 1,214 trillion dollars. Following them in the top ten is a group of offshore Caribbean States (311,5 billion us dollars), member States of the Organization of countries-exporters of oil (OPEC) (296,8 billion), Brazil (258,5 billion), Switzerland (222,7 billion), Ireland (209,0 billion), Belgium (202,8), UK (199,5) and Hong Kong (186.3 billion).
It is worth noting that actively goes out of us securities Belgium. Back in February, it was right after Japan and China, though with large margin, and now only in eighth place. A few months Belgium has reduced investment in "treasuries" by as much as 142.5 billion dollars: 345,3 billion in February to 202,8 billion in may.
When Russia last year, began to sharply reduce investments in us securities, many saw this as political reasons. Why Moscow to help the us economy amid sanctions, economic war? In fact the strategy of investing the reserves of the national welfare Fund and the reserves of the Central Bank in us securities is determined in the first place is still yield.
"We have increased the holding of securities in may, in order to earn some money. We thought that they will grow in price with the deteriorating situation in the global economy. Usually US treasuries are becoming more expensive in a crisis. But this crisis did not develop quite normally. Investors feared a rate hike in the US and sold all long-term bonds, including Treasury. As a result, the bonds began to fall in price. Therefore, the purchase in may was a error in trading tactics. We underestimated the effect of expectations of a rate hike into the market of us government bonds," – says Mikhail Krylov from the IR "Golden Hills-Kapital AM".
Thus, the yield on 10-year us Treasury debt in may reached six – month highs- about 2.2%, and the price, respectively, six-month lows. In June, the depreciation of the "treasuries" suddenly continued and the yield has soared to 2.4% and the price has dropped even lower. "Lowering the prices of Treasury debts of the United States happens in periods of increasing interest to risk assets, such as ruble and the Euro, the Russian stocks and bonds of Spain and Portugal," adds wing. When the interest in risky assets falls, us Treasury bonds are perceived as safe-haven asset.
These actions should not look for politics, says financial analyst FxPro Alexander Kuptsikevich. "There is a direct correlation between the volume of reserves of the Russian Federation in General and their investments in U.S. securities. Since the beginning of this year, when the reserves of the Central Bank stabilized the decline can be attributed to the unattractiveness of purchases of American bonds, as their yield decreased significantly on the background of the separation, expected date of an interest rate increase. However, in recent months the yield on us bonds, however, as European, markedly increased, and also started an active purchase in the Reserve Fund almost nonstop for 100 million a day in may" – says Kuptsikevich.
With the growth of control reserves in the Central Bank continue to buy us securities contrary to the dynamics of political relations.
"It's all in the characteristics imposed on the reserves. Their constituent securities must be liquid and the market is deep, so you can promptly buy and sell in significant quantities, not afraid to noticeably affect the market. According to these indicators, dollar-denominated assets are the best," – says Kuptsikevich.